How do we communicate ?
We communicate visually, vocally and verbally.
The percentage and weightage vary on the personality, character and style of the individual.
Extroverts are more visual in the way they speak and present.
Others are strong vocally, evoking intensity and tonality when they convey their message and ideas.
Some are more effective in their command and competence of the language, using words with colour, flavour and glamour.
They incorporate interesting and creative usage of the language.
Striking the right balance with the 3Vs (visual, vocal, verbal) will definitely help the public speaker enhance and emphasise his ideas, to engage and endear with the audience more effectively.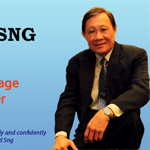 We get tongue-tied when we try to vocalise and verbalise our thoughts, ideas, points of view and opinions.
We fumble for words to express ourselves, tumble over words to make ourselves understood or worse, mumble our words.
We are unable to express our thoughts.  We are at a loss for words, the right words.  We take the easy way out, by using bland and boring words, lacking colour and flavour.
We can, not only express, but also impress when our word choice is creative, innovative and descriptive.
When our language is flawed and fractured, we lose the credibility when we speak or present, and authority as a teacher, lecturer, trainer, speaker and presenter.