About Speaking well
Verbal Communication
We get tongue-tied when we try to vocalise and verbalise our thoughts, ideas, points of view and opinions.
We fumble for words to express ourselves, tumble over words to make ourselves understood or worse, mumble our words.
We are unable to express our thoughts.  We are at a loss for words, the right words.  We take the easy way out, by using bland and boring words, lacking colour and flavour.
We can, not only express, but also impress when our word choice is creative, innovative and descriptive.
When our language is flawed and fractured, we lose the credibility when we speak or present, and authority as a teacher, lecturer, trainer, speaker and presenter.
Hence, we wriggle, wrestle and wrangle our way out.
We can be an artist and a painter with words, even an architect and sculptor in the artistry and wizardry with words.
Look for a coach to learn Public Speaking Skills to enhance your career? Richard Sng, the vocal and verbal image consultant has the answer for you
Verbal Communication Tip #1
Incorporate the use of language tools to add colour, flavour and glamour (if not, splendour) to our writing and in presentations.
Unleash, unlatch and unlock the hidden potential in the language creativity of the mind.
Appreciate the beauty of words and the written language.
Public Speaking #2
Speaking Well Tip #6
Speaking Well Tip 6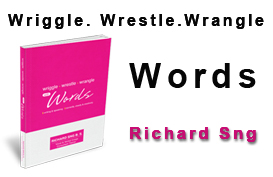 Wriggle, Wrestle, Wrangle with Words